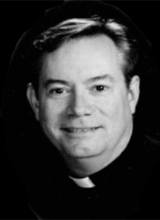 Fr. Kenny is the second child of Kuhlman & Midge Kenny who currently reside in Olive Branch, Miss. Fr. Kenny was born in New Orleans, La. in May of 1963, and also has lived for short periods of time in Georgia, Alabama, and Indiana, until his family moved to Memphis in 1972, when his father took a job with Federal Express. He, along with his family, attended St. John's Catholic Church and graduated from eighth grade there in 1978. He attended Bishop Byrne High School graduating in 1981. After attending UT Martin for one academic year he was accepted by Bishop Carroll T. Dozier as a seminarian for the Diocese of Memphis. Fr. Kenny was assigned to attend St. Ambrose College in Davenport, Iowa graduating in 1986 with a Bachelor of Arts degree with majors in Theology & Philosophy. Following college, then Bishop Stafford, sent Fr. Kenny to Mundelein Seminary which is operated by the Archdiocese of Chicago where he completed his priesthood formation and graduated with a Masters in Theology in the spring of 1991 just before his ordination to the priesthood on June 1, 1991 by then Bishop Buchelein.
His first assignment as the associate to the Cathedral of the Immaculate Conception, with additional responsibilities as the bishop's Master of Ceremonies, Bishop's liaison to the board of Catholic Charities of Memphis, and part-time teacher at Memphis Catholic High School. After his first two years at the Cathedral. While his first two years at the Cathedral, Bishop Steib transferred Fr. Kenny to Holy Rosary on Park Ave. Fr. Kenny continued as the Bishop's MC until he was granted a year of liturgical studies at Catholic University of America in Washington, DC. Having completed the year of studies, he was assigned to St. Mary's in Camden and Holy Family in Huntingdon, Tenn. as pastor for where he remained five years. Following that assignment he became the a Associate Pastor of St. Francis of Assisi in Cordova for four years, then was appointed pastor of St. Philip the Apostle in Somerville for nine years until his current assignment to St. Paul the Apostle parish in Memphis, Tennessee.
Besides serving as a priest for the Diocese of Memphis, Fr. Kenny enjoys cooking, reading, riding his motorcycle (don't tell his mother), travel, the performing arts and of course he is the proud owner of one dog, a whippet, Isabella Clair.
You can contact Fr. Kenny at the church office, or email him at:
.