Ray Cuthbertson Obituary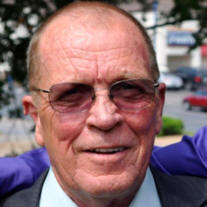 Ray C. Cuthbertson, 72, of Nashua, NH and formerly of Hudson, NH and Horn Lake, MS, died Tuesday, April 10, 2018 at the Lahey Clinic in Burlington, MA, surrounded by his loving family.

He was born July 30, 1945 in Fitchburg, MA, son of the late Clyde and Myrtle (Daulton) Cuthbertson.

Ray was the beloved husband of Pat (Grillo) Cuthbertson, with whom he shared almost 52 years of marriage.

Ray was a Navy Veteran, having served his country honorably in Korea and Vietnam. He was later employed with Sanders / BAE for over 30 years. When he moved to Mississippi, he became very involved with local youth groups and relished the role handy man for many schools and churches in the bordering state of Tennessee. He took great pride in his work shop and was actively involved in the Knights of Columbus in Whitehaven, TN, where he held the rank of 4th Degree.

Ray will always be remembered for his willingness to lend a hand and for the great love he had for his family and friends.

Besides his loving wife, Pat, survivors include a daughter, Lynn Bergeron of Manchester, two sons, Andrew Cuthbertson of Hudson, Michael Cuthbertson and his wife Rebecca (Cote) of Hudson, five grandchildren, Joseph Bergeron, Emily Cuthbertson, Hannah Cuthbertson, Ryan Cuthbertson, Evan Cuthbertson, two brothers David Cuthberston and his wife Marlene of Hudson, Lee Cuthbertson and his wife Marlene of Sanbornton, NH, two sisters, Jane Ruiter and her husband Miles of Hudson, Sue Guilbert and her husband Normand of Westfield, MA, as well as three God Children, Chuck Young, Sarah Hercules and Amelia Hercules, also many cousins, nieces, nephews, and dear friends.

Visiting hours will be held on Sunday, April 15th from 1pm-4pm in the DUMONT-SULLIVAN FUNERAL HOME, 50 FERRY ST. IN HUDSON. A Mass of Christian Burial will be held on Monday, April 16th at 10am in St. John XXIII Parish at st. John the Evangelist Church, 27 Library St., in Hudson. All may please meet at church. Burial will be in Holy Cross Cemetery, Gilcreast Road in Londonderry. In lieu of flowers the family encourages donations be made in Ray's loving memory to SEARCH, Retreat Catholic Diocese of Memphis, Office of Youth Ministry, 5825 Shelby Oaks Dr., Memphis TN 38134.
http://www.dumontsullivan.com/obituaries/Ray-Cuthbertson/#!/Obituary