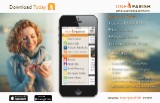 We are pleased to announce our new parish app. This app for your phone will allow us to stay in touch with each other wherever you go. With this app, you can read the daily Mass readings, find a church while traveling, receive messages from Frs. Kenny and Granados, and view the Sunday bulletin and the ministry schedule just to name a few things the app allows you to do.

We want to encourage you to use a specific feature on the app—the donation tool. Please prayerfully consider using this as your tithing method to our parish. The OneParish donation feature is incredibly safe and secure, simple to monitor your giving, and can provide full records of all your donations.

Download the free OneParish app from the Google Play Store or from the Apple App Store. If the language of your phone is English, the app will be in English or if Spanish, then the app will be in Spanish.

If you have an existing account, you can access it at https://my.oneparish.com/ .